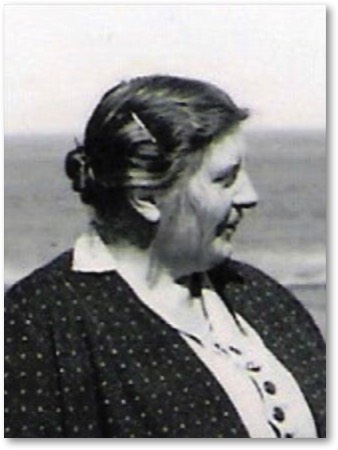 Miss Hemus – Sweet pea breeder in Worcestershire By Judith M. Taylor and Simon Wilkinson
She emerged in solitary splendour from among all the great panjandrums of Sweet Peas in the early years of the twentieth century: Miss Hemus, of Upton upon Severn in Worcestershire. Her name appeared time after time in the useful list prepared by Lester Morse in 1917 . She bred champion flowers very seriously. At least one of her cultivars, Evelyn Hemus, won prizes and remained in the gardener's repertoire for many years. She was not a lady dilettante but still, all it said was "Miss Hemus". Her address was in the list of subscribers to the National Sweet Pea Society, in the 1908 annual .
From about 1880 to 1920 Sweet Pas were the undisputed leaders of horticultural fashion. After being almost totally neglected from 1699, the date of their first known appearance in England, to about 1865, Sweet Pas arrived. The horticultural world woke up to find that the flowers had taken a gold medal at the Royal Horticultural Society's 1866 show, with James Carter's Scarlet Invincible . This achievement set off a tremendous search for new cultivars. Everyone agrees that Henry Eckford, 1823 – 1911, was the dominant figure in the early stages. He won his first gold medal at the RHS show in 1881, for Bronze Prince. Eckford tightened up the anatomy of the flower, introduced a wonderful new range of colours and larger blossoms.
Eckford's line of 'Grandiflora' revolutionized Sweet Pea breeding. It in turn was partially eclipsed by the advent of the 'Spencer' type, but even that was a sport of a 'Grandiflora' variety . Then dozens of others took up the Sweet Pea: Bolton, Burpee, Dobbie, Ferry, Sutton, Unwin, some still household names today in the seed business, and many more. Using Lester Morse's 1917 list as a data source, here are a few numbers just to get a perspective. This is the total number of cultivars each of them released until that date, good, bad or indifferent.
Bolton 77
Burpee 42 Dobbie 48 Eckford 252 Ferry 4 Hemus 136 Morse (with others) 67 Sutton 19 Unwin 49
If one takes a look at the longevity of their work, quite a different view appears. Of Ferry's measly four cultivars at the time, one was Blanche Ferry, the progenitor of almost every major cultivar for years afterward. The Ferry company eventually produced more cultivars in combination with other breeders but novelty for its own sake had no ultimate staying power. At one point the society had to lay down a rule preventing the showing of almost identical cultivars in one event . If a breeder entered Evelyn Hemus he could not also enter Charles Breadmore. There was no true difference between them. Unfortunately almost all of the Hemus cultivars vanished within a few years. The Lester Morse catalogue indicates how soon a cultivar became obsolete .
As a snapper up of unconsidered trifles, one of the authors, (JMT) was determined to find out more about a woman who could do all this, to see if possible what drove her and why she spent her time in this way. At first it was not promising. Miss Evelyn Hemus had made it to Google with a single entry, so in today's currency she existed, but it was merely as the sister in law of a much better known man, Sir Rowland Biffen.
The trail ran extremely cold until the second author took on the challenge. He lives and works in Upton upon Severn and has found living descendants of the Hemus family. Finally Miss Hemus has a human face but the facts indicate that behind the decorous façade, there were tumultuous doings within the family. It turns out there were four Hemus daughters, Mary, who married in 1899, Hilda, Evelyn and Lucy. There were two sons, Charles and Guy. From the outset we need to understand that the records do not make it clear which daughter we are considering at any particular time: Mary, Hilda, the eldest unmarried sister, Evelyn or Lucy. In the etiquette of the time "Miss Hemus" meant the eldest unmarried daughter. If they were referring to another daughter it would have been "Miss Evelyn Hemus", or "Miss Lucy Hemus". Any Jane Austen novel makes this clear.
Hilda, seems to have been the "front person". The trouble was that while this arrangement was neat and efficient, when there were medals to be won or royal hands to be shaken, Hilda got all the credit. This led to feelings of outrage and injustice in her family. Back in the country something quite different was going on. They came to regret their Faustian bargain.
To understand the situation, we need to step back a little. Edmund Hemus 1844 – 1910, was a prosperous ironmonger in Tewkesbury. He moved to Upton- upon-Severn in 1891 with his large family and leased Holdfast Hall Farm. Edmund Hemus had grown up on a farm. After his death the farm stayed in the family for a while: Edmund's sons took on the lease. The property, 260 acres in all, belonged to the wealthy Dowdeswell family. A13 acre field named "Paradise" was used to grow Sweet Peas. This explains why the names of so many of the Hemus cultivars are prefaced by the term 'Paradise'.
The girls seem to have married very well. Mary, born 1872, married Rowland Biffen, later Sir Rowland, in 1899. Biffen's father, a self made man, was the headmaster of a small state school in Cheltenham. The Biffens were of relatively modest origin but Rowland was a gifted scholar and rose rapidly in academic circles. He held a chair at Cambridge where they lived for the rest of their lives. Hilda, born 1874, married Robert Ashworth, a former Army officer, in 1911. Evelyn, born 1880, married Jack Fyfe, a shipping executive of Scottish descent, in December 1911. Evelyn had been a governess for the family of Robert Henderson, a very respectable bank manager, in Sutton, Surrey, in 1901, at the age of 21. Ethel Lucy was born in 1882 . She seems to have remained single and later moved to Cirencester to live with her brother Charles.
One of Evelyn's descendants believes that the fact Mary became Lady Biffen caused some gnashing of teeth. This same grandson mentioned that Jack Fyfe was offered a knighthood for his work in India but rejected it because it cost too much. Granny Fyfe, the children's name for her, might well have become Lady Fyfe if Jack had not been so prudent. Jack Fyfe died in 1950 and Evelyn Fyfe (nee Hemus) died in 1961. The grandson remembers his Granny Fyfe muttering darkly that "Hilda got all the credit while I (Evelyn) did all the work ." Granny Fyfe never talked about Lady Biffen and the children hardly ever saw their aunts.
Miss Hemus' hybrids began to appear in 1903. The Field Notes show she issued Severn Queen that year. In 1906 she brought out another new cultivar, Ivorine. Eight new cultivars appeared in 1907, three of them with "Paradise" in their name. 1909 and 1910 were relatively quiet years but in 1910 and 1911 her activity exploded. There were 31 cultivars in 1910, at least half with "Paradise" in their name and 47 in 1911, the majority carrying the term "Paradise". Several more appeared in 1912, 1913 and 1914, but then it all ceased abruptly. It is interesting to look at what took place in light of the family circumstances. Mary's marriage to Rowland Biffen in 1899, possibly started an interest in flower breeding among the sisters. Mary herself won a gold medal at the Royal Horticultural Society in 1907 for "Mendelian Sweet Pea cultures". One cultivar credited to Biffen-Hemus, Zero, came out in 1911. Biffen also was credited with a cultivar introduced in 1906 by Unwin, called Zoe.
Their father, Edmund Hemus, died in September 1910. Hilda Hemus married Robert Ashworth in April, 1911. The household would have been extremely busy and somewhat disrupted by these two events. In those days unmarried elder daughters nursed sick fathers. After her father's death Hilda would have been involved first with courtship and then with her trousseau and plans for the future. At the same time Evelyn was preparing for her wedding which took place in India. Once Hilda was married all sorts of new responsibilities would have been expected of her.
This leads us to believe that the author of the extraordinary numbers of new hybrids in those two years was more likely to be one of the other sisters, Evelyn or Lucy. Roger Parsons, a present day expert in Sweet Pea lore, was asked what he thought. He confirmed that Evelyn Hemus was the name he had always heard. This is echoed in at least one article in an old Sweet Pea Annual .
Nevertheless, when one consults the April 19, 1911 Longdon, Bushley, Queenhill and Holdfast Almanac, one finds the following item. "Miss Hilda Hemus who has won such great fame throughout England for her Sweet Peas was married on this day at Queenhill Church to Captain Ashworth who served in the Commissariat Department of the Army and has seen much service in India. They have bought from Mr Dowdeswell the land which forms the Sweet Pea Farm and which has been known from time immemorial as Paradise- a fit name for a garden of such beauty. They have built a house upon it, with the requisite outbuildings, which we hope will be their home for many years to come." Apart from the fact that the reporter could have used some help with his grammar it does explain why the next few years' cultivars were all called 'Paradise'. There is no doubt that Hilda had the reputation. What is not clear is how much of the work she did.
The cultivar Miss Hemus won an award of merit at one of the Royal Horticultural Society shows in 1908. In 1909 The Times of London reported that Miss Hemus won the National Sweet Pea Society's Henry Eckford Memorial Cup with 12 bunches of Sweet Peas, including Evelyn Hemus.
It is tempting to believe that this success may have made them think about going into business. The Hemus family did not own the Paradise field before Hilda's marriage. Planting the flowers on a much larger scale and the building of Holdfast House along with offices and store rooms suggests a commercial approach. Possibly Captain Ashworth played an important role in this decision. Robert Sydenham may also have had something to do with this decision . He was a nurseryman in Birmingham known for his daffodils and whose principal interest was in bulbs. He was not primarily a breeder but sold other people's varieties. Someone like this could have been the bridge between the Hemus family and retail nurserymen and florists.
Acknowledgments The people listed below were very helpful to the authors Wendy Betteridge Evelyn Hemus' granddaughter Tony Fitch Evelyn Hemus' grandson Mrs Mary Griffiths Guy Hemus' daughter
Keith Hammett Plant collector and breeder Robin Hawkins Evelyn Hemus' grandson-in–law. Doreen Hopwood Genealogist, City of Birmingham Library Maureen Horn Librarian, Massachusetts Horticultural Society Roger Parsons National Collection of Lathyrus Jackie Surtees Web master, www.upton.uk.net Robert Ryland Archivist, City of Birmingham Library
About the co-author
Simon Wilkinson read Modern History at Oxford University. He taught for some years, before becoming an administrator. He has lived in Upton-upon-Severn for forty years, and has been Town Mayor, Chairman and then President of the Civic Society. He researches local history and writes articles and booklets on topics of local interest.