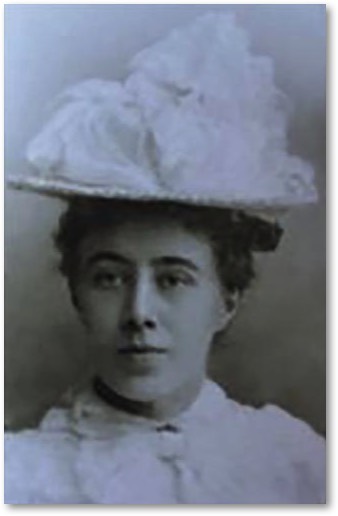 Miss Hilda Hemus: Pioneer breeder of sweet peas Judith M. Taylor, Simon Wilkinson, and Keith Hammett.
In early 2008, two of the authors, Judith Taylor and Simon Wilkinson, reported their initial findings about the woman who belonged to the National Sweet Pea Society, bred dozens of new cultivars and won several prizes. (1) She was the only woman in a classically male enterprise. Miss Hemus of Upton upon Severn intrigued these two authors and they revived the name and activities of an important figure.
There were four Hemus sisters in Holdfast Hall farmhouse: Mary, Hilda, Evelyn and Ethel Lucy. Mary married Rowland Biffen, (1874 – 1949), in 1899 and went with him to Cambridge. Biffen was a noted expert on plant genetics and was later knighted for his work on wheat. As a young man living just a few miles away he spent some summers at Holdfast Hall .Ten years later, in 1905 and 1906, he grew his experimental wheat in their fields. Hilda worked closely with him but refused his offer of marriage.
Meanwhile what of Evelyn and Ethel Lucy? Evelyn has been considered the true actor in the Miss Hemus saga for many years. The paper in 2008 reinforced this notion. Ethel Lucy is a more shadowy figure but did not seem to be deeply involved in the sweet pea business. She never married.
Since the first paper was written, valuable new information has come to light and we are now able to report that Hilda Hemus deserves the main credit for the work on sweet peas. Her publications show that she had acquired a very sound theoretical knowledge and her catalogues show the extent of the business. It is possible that Evelyn's role concentrated on the production of the sweet peas and the detail of hybridization. Evelyn's comment many years later to her grandson that "Hilda got all the credit but I did all the work" is the classic reaction of the factory manager to the role of the marketing manager and chief executive!
This article lays out the evidence for changing the narrative. Mr Daniel Pawson is a retired banker in Napier, New Zealand. Some time ago he approached Keith Hammett with a fascinating story about one of his friends, a Mrs Jean Waterworth, and wondered whether Dr Hammett would be interested in the history of her mother, the former Miss Hemus.
Dr Hammett was indeed interested, particularly as he knew about the work on the first paper about Miss Hemus. This is a wonderful example of chance favouring the prepared mind. Up until then no one was paying very much attention to Miss Hemus.
Mr Pawson's friend Mrs Waterworth is the daughter of Hilda Hemus and has many memorabilia of her mother. She is in her early 90s and lives in a retirement community near Napier. The Pawsons visit her regularly. Jean Waterworth entrusted Mr Pawson with her mother's papers. Based on these documents a better story can be pieced together. They show without doubt that Hilda Hemus was the "Miss Hemus" in the record books.
The first Hemus sweet pea cultivar, 'Severn Queen', was exhibited in 1903. Hilda was born in 1874, so was not quite 30 at the time. In 1906 she introduced 'Ivorine', followed by 8 new cultivars in 1907. Three of these had the prefix "Paradise", named for the field where they were grown. The best known variety, in 1907, was 'Evelyn Hemus' named after her sister. This was sold very widely, on the Continent as well as in Australasia and the United States.
Hilda did not introduce many new flowers in 1909 but in 1910 and 1911 there were 31 and 47 Hemus cultivars respectively. In 1912, 25 cultivars appeared. At least half of these flowers had the prefix "Paradise". Miss Hemus won more than one gold medal for her introductions. A few more cultivars trickled out but by 1914 there were no more.
Although Hilda had not been inclined to marry Rowland Biffen in the late 1890s she did accept Captain Robert Ashworth's proposal in 1910. Ashworth had served in India and South Africa. Ashworth was not wealthy but had probably done well as assistant superintendent of clothing in India and as a quartermaster to cavalry regiments. His money and that made by the sweet pea enterprise meant that the Ashworths could buy the Paradise field at the same time as they built Holdfast House, its storerooms and offices, in 1911.
The relations between Hilda and Evelyn had never been very cordial, according to Mrs Waterworth. Hilda received a lot of attention and was quite well known. She gave newspaper and magazine interviews. In 1911, she was featured in a story in the Daily Mail on February 16 as the "Woman Who Invents Sweet Peas". When the reporter asked her why she began to breed sweet peas, she replied it was because she had learned about Mendelian genetics. Hilda also noted that she had set up the business with her sister. This was more likely to be Evelyn than Mary, who now lived in Cambridge. It was not long afterwards that Hilda married Robert Ashworth and Evelyn married Jack Fyfe. She met him on a ship to India and later they lived there.
Another symbol of the esteem in which Hilda was held was her election to a Fellowship of the Royal Horticultural Society. Membership in that organization had to be earned. It was not simply purchased by paying the fee. It was very uncommon for a woman at the time to have a thriving business on her own, employing more than 20 men. Her sweet peas won awards and medals and even more telling, Hilda made money.
After 1911 change came about in the business and not just in the number of new cultivars. For about 5 years she had an exclusive contract with Samuel Ryder, donor of the famous Ryder Cup in Anglo-American golf, supplying all her sweet pea seeds to his seed company. In 1917, the Ryder advertisement in the Sweet Pea Annual mentioned that he obtained his seeds from Miss Hemus. Ryder was really annoyed when she stopped growing sweet peas. This probably happened in 1917. With the outbreak of World War I, Hilda had had increasing difficulty in continuing with her business.
By 1916, almost all her men had been called up and her horses had been requisitioned. Then, in 1917, government regulation made life for anyone growing flowers in an open field even more difficult. Land was required for wheat production and Hilda's brother-in-law was advising the government on what wheat should be planted. Nonetheless Ryder said that the money he had made from selling the seeds allowed him to endow the Ryder Cup for international golf.
There are still some gaps in our information about how and why Ryder chose Hilda Hemus to supply his seeds rather than one of the much larger firms like Eckford or Unwin. Their businesses were not near each other. Ryder operated outside the conventional pathways. He sold his seeds through chains of very inexpensive shops as well as by mail.
Captain Ashworth survived the war unscathed and ended up as a major. The family farmed at Holdfast Hall which they had bought from their landlord in 1916, but he disliked the Worcestershire cold intensely. Four years later he insisted that the whole family emigrate to New Zealand. Hilda was reluctant but dutifully went with her husband to Christchurch in the South Island in 1922. Ashworth sold the house and the farm before they left.
Christchurch is too hot to grow most types of sweet pea. Hilda Ashworth persisted for as long as she could but eventually had to stop trying to grow the flowers commercially. She had also developed a quite debilitating form of rheumatoid arthritis over the preceding years and that too hindered her efforts.
When Major Ashworth died, Hilda went back to England with her son for a brief time but found she could not continue to live there and returned to New Zealand. Hilda died in 1954, at the age of 80. In the course of their studies the authors learned that while descendants of Hilda and Evelyn are living in New Zealand they had no idea of each other's existence until Keith Hammett spoke to Mrs Waterworth.
Dan Pawson has gone through Jean's records very carefully with her. The material they found makes it quite clear that Hilda bred the sweet peas and ran the successful business. Some of the catalogues give her name as "Miss H. Hemus" on the covers and the ordering instructions are signed "H. Hemus".
There is an anecdote about the Chelsea Flower Show being closed to the public while the king and queen were viewing the exhibits but she was waved in by name in the most friendly fashion. At another show the king himself, Edward VII, came forward himself to congratulate her on one of her wins. She was recognized by a man deputed to guard the gates at flower shows. The medals are inscribed with her name. She was the one.
Acknowledgements
Jean Waterworth Dan Pawson Roger Parsons
Reference Taylor, Judith M. and Simon Wilkinson 2008 "Miss Hemus: sweet pea breeder in Worcestershire" National Sweet Pea Society Annual 2008 75 – 79
About the co-authors:
Keith Hammett is an award winning plantsman and flower breeder who emigrated from England to New Zealand many year ago. He is an expert on dahlias and an author of monographs on this plant. He only permits himself to indulge in horticultural history as an avocation.
Simon Wilkinson (see previous article on Evelyn Hemus)