Musings
»
Azaleas: Kinds and Culture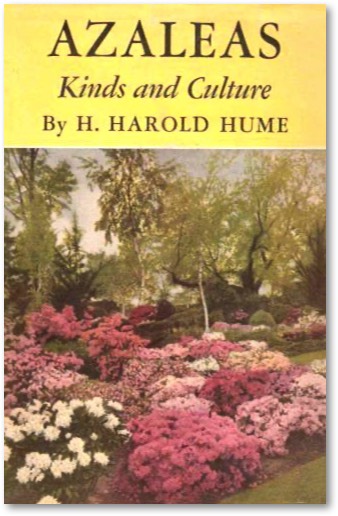 H.Harold Hume
New York Macmillan 1948
Azaleas are part of the modern horticultural background. They always seem to have been there, neat and compact, brightly colored, doing exactly what they are supposed to do in the garden. Some are even fragrant. This is another instance in which we do not know how well off we are. Like so many other current garden "staples" the rhododendron started out as a rich man's hobby. The inspired and devoted work of many plant breeders rescued it from this category and gave the ordinary person a huge choice of heavenly blooms. The end result of flower breeding is an example of democracy in action but one in which everyone wins.
The azalea is a rhododendron although it doesn't know it. Linnaeus did not have enough specimens of either plant to recognize their joint identity but by 1830 it was clear there was no essential difference between them.
H. Harold Hume was dean of the college of agriculture and horticulture at Gainesville, Florida, later to become the University of Florida. His name is always associated with azalea and camellia because of the books he wrote. This book was first published in 1931 but in the ensuing years so many remarkable changes occurred he largely re-wrote before bringing it out again in 1948.
Unlike many exotic plants the azalea is a full citizen of North America. It just happens to have a large number of amazing relatives scattered throughout Eurasia, particularly in the extraordinary Himalayan triangle of Tibet, Northern India and Northwest China. The plant is also found in the other Himalayan kingdoms, some now better known for their unfortunate wars and uprisings. In warmer zones the azalea or rhododendron can grow to ten feet tall. At 16,000 feet it is creeping and prostrate. In general the higher the altitude the smaller and more compact the plant.
The genes of one such plant have been successfully bred into many modern azaleas. R. yakushimanum is only found at the pinnacle of a cold and windy mountain on the Japanese island of Yaku, out in the China Sea. The plant was discovered by a Japanese botanist in 1920 but did not reach the west until 1934 when a nurseryman from Yokohama, Koichiro Wada, sent it as a gift to Lionel de Rothschild, the leading English azalea breeder.
Rothschild was a member of a very wealthy family whose name is synonymous with riches. He was very generous and immediately shared his present with many other breeders, some of them in Germany such as Dietrich Hobbie.
For some reason Hume did not mention this species or Rothschild's name. He did give a fairly exhaustive description of the other species, both native to North America and those from the Far East. The principal division is between the deciduous species and the so-called evergreen azaleas. It is now known that what we perceive as evergreen is actually a second flush of leaves coming so soon after the first tone that there seems to be no bare interval.
Hume writes methodically and well and as long as one realizes there are some lacunae his book can still be useful.