Musings
»
Garden Islands of the Great East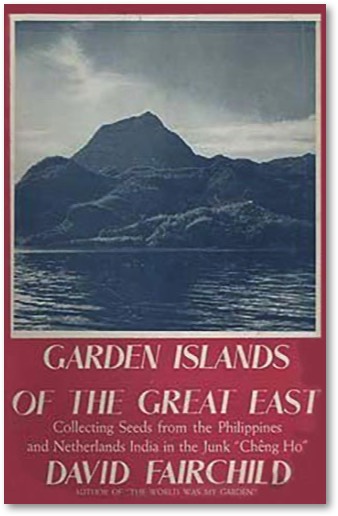 Fairchild, David
New York
Charles Scribners Sons 1943
The ladies who founded the club lived in a heroic era for plant collection. New and wonderful plants were still arriving from far off places and the discoverers were writing about them. Most of it came to an end after WWII.
One of these men was David Fairchild, 1869 – 1954. He was born in a small mid-Western town where his father was president of the local college. The simplicity and rigor of such an upbringing instilled many virtues in short supply today. Fairchild spent his entire career in seeking out important new plants, both edible and ornamental, to improve crops and strengthen American agriculture.
He directed the Office of Plant Introduction at the US Department of Agriculture for more than 30 years, and the library at Berkeley has all the USDA bulletins he issued from 1900 recording the priceless imports. David Fairchild married Alexander Graham Bell's daughter. He also sponsored the career of Frank Meyer, the man for whom the Meyer lemon is named.
It was when Fairchild published The World Is My Garden that he became more widely known to the general public. In 1916 the Fairchilds bought land in Miami, as a staging area for new plants coming from the tropics. This property is now the Fairchild Tropical Garden, one of Miami's most attractive places. Should you ever be in Miami, go and see it.
The World in my Garden set the stage for his story. He described his travels in Asia and South America on a broad canvas. Fairchild had a comfortable narrative style with a certain dry wit. This book is about his leisurely exploration of the islands of the East Indies, now of course known as Indonesia, in a replica of a Chinese junk. They set out in late 1939.
One of the chapters in Garden Islands of the Great East is headed "We Decline Cremation in Bali". What was that about? On page 141 Fairchild explains that he was finally able to visit Bali although the Dutch government had not allowed foreigners in for many years. His local guide was bursting with pride about his charges and told Fairchild that "now I have you here I am never going to let you go. When you die I will give you a wonderful cremation".
Fairchild ruefully explained they could not stay and commented in an aside that "we shall probably be hustled into our graves with little ceremony while the automobiles wait impatiently to take the mourners home." I would like to have met this man.
In spite of such amusements the trip was a serious one. They set out from the Philippines where they found seeds and plants of great value back in the US. Fairchild liked a fruit called "marang" though I do not believe it ever became very widespread in this country.
The junk they were using belonged to a rich American woman, Mrs Anne Archbold. It was named "Cheng Ho". A few weeks ago I might not have known what that signified but now understand that this is a variant on the spelling Zheng He, the name of an amazing Chinese admiral of the early 1400s. An orphan and an outcast, he rose to be the chief military advisor to the Ming emperor Hong Li. They built gigantic ships, ten times larger than Columbus' or other Western adventurers. The ships sailed up and down the coast of Africa and far beyond their own shores. His name has come down in legend in the Indies but in China all his work was deliberately destroyed and no records were permitted to remain.
A brief check shows how many plants he examined, including mangosteens, durians, papaya, pomelos, palms and orchids. He admired the teaching methods of the forestry school in Java. Young students simply climbed up whichever tree they needed to study and brought down their own specimens. This closeness with nature impressed Fairchild.
The trip lasted more than 6 months and was only curtailed by the onset of the second world war. They were just ahead of the Japanese invasion of Indonesia and may have been the last Americans to visit the islands before war took hold. It is poignant to see that several Americans were returning to the East right at that time. One knows their fates had to be very sad. Very few survived Japanese internment and sometimes torture.
Very soon after they started they ran into a huge typhoon. The captain was very calm and philosophical but the Fairchilds were distinctly shaken by the experience. Once everything settled down they had an opportunity to visit nurseries in Yokohama. One of the owners, an expert in cherry trees, was distressed about the modern lack of interest in that classic tree, symbol of Japan all over the world. David Fairchild astutely noticed that the Spartan simplicity of Japanese home life could easily turn into the Spartan simplicity of military life. That is of course what would happen very soon.
Modest and unassuming, David Fairchild was a remarkable American to whom we still we owe a great deal.