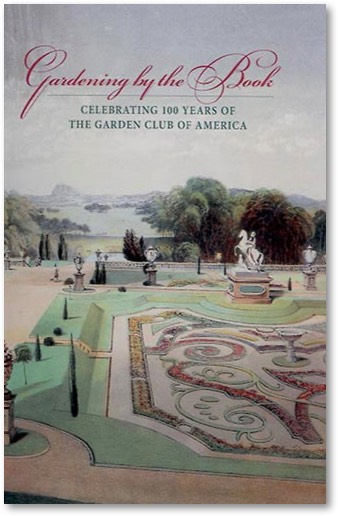 Warren, Arete Swartz
New York
The Garden Club of America
The Grolier Club 2013
Natasha Hopkinson, one of our new members, very kindly lent me this handsome book. Natasha is very active with the Garden Club of America and has been in its top hierarchy for years. The author, Arete Swartz Warren, is devoted to the club's extensive library and felt that this compilation would be an apt recognition of the club's centennial. Through the years the GCA has acquired many rare and significant books which would be the glory of anyone's gardening library. Highlighting them all in a single volume reminds the membership and the world at large just how remarkable a collection it is.
The Garden Club of America has many chapters across the country. They are united by an adherence to basic gardening tenets underpinning the club's philosophy. Our club is not part of this organization.
Mrs Warren opens the book with an essay: "Forming a library to stimulate the knowledge and love of gardening". Denise Otis and Leslie Overstreet provide additional introductory essays. "Spirits in the Garden: American Women Writers and Designers in a Glorious Age of Garden making" brings to life many now forgotten women who turned out valuable articles to promote gardening but were not otherwise well known.
The rest of the book is divided into six sections by epoch from the 17th century to the present. Almost every page has a colored illustration taken from the book in question. The book is sumptuously produced and was named a "Book of the Year" by the Wall Street Journal. A total of 150 books are illustrated in this work.
It opens with Emanuel Sweert's Florilegium published in 1612, the year he died. A florilegium is a sort of literary snapshot of a particular garden's plants or a catalogue of plants. Sweert was Dutch and he included over 560 tulip bulbs and flowers that could have been fodder for the "Tulipomania" craze which swept the Low Countries a few years later.
MovIng to another era, William Forsyth's treatise on fruit trees in 1802 marks a considerable advance. Next to it comes Jean Jacques Rousseau's "Botanique" with illustrations by Pierre Redouté, issued in 1805. Rousseau had died in 1778 but the book was published posthumously.
In 1831 Priscilla Susan Falkner, (later Mrs Edward Bury), produced a unique book of colored flower paintings, "A Selection of Hexandrian Plants: belonging to the natural order Amaryllidaceae and Liliaceae". The crisp clarity of her painting puts her in a category all of her own.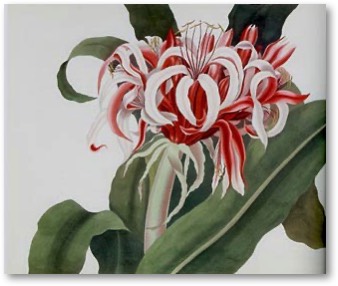 Amaryllis by Patricia Falkner
Not until the modern era did such elegant flower painting stripped of all excess become the norm. Shirley Sherwood's' "A Passion for Plants: contemporary botanical masterworks" , a compilation of modern flower painting, introduces us to women painters who are equal to or outstrip Redouté himself.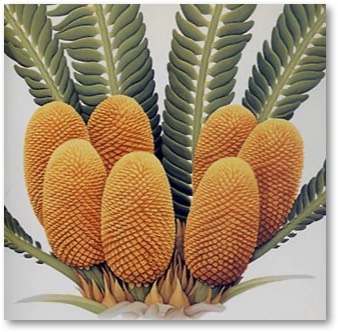 Cycads by Leslie Berges, 20th century
Compare such work to Marianne North's much admired but blowsy, over romanticized blossoms.
The Garden Club of America is lucky to have someone like Mrs Warren to care for their treasures so ably.
Copyright © Judith M. Taylor February 2014