Musings
»
The Gardens of San Francisco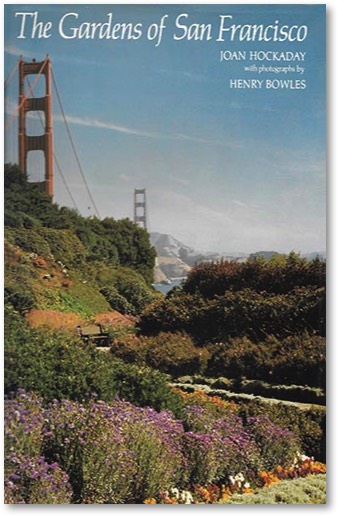 Hockaday, Joan
Portland, Oregon
Timber Press 1988
The San Francisco Garden Club lost a truly distinguished member when Joan Hockaday left for Seattle. Joan is a journalist and author who became fascinated by gardens and horticulture many years ago. This interest has informed all her work since then. Among other accomplishments she arranges the lecture sessions at West Coast flower shows.
In 1988, Timber Press published her remarkable book "The Gardens of San Francisco". I find it to be unique. There is really no other work solely about these gardens. A few other books comment on some of the gardens in San Francisco in passing, but they tend to be guide books covering the state as a whole. Oddly enough, the SF Garden Club's "Vignettes of Early Homes and Gardens in San Francisco" comes closest to matching her focus.
She begins with the establishment of San Francisco as a city. There is a valuable nugget of information on every page, for example about Mayor Mc Coppin setting aside land in 1852 for Golden Gate Park and the four smaller parks we still enjoy. Who remembers Mayor McCoppin? His name is relegated to a minor street off Duboce under the highway and yet he had a very sophisticated vision of a city.
After this scholarly and splendidly illustrated introductory section which takes up almost half the book, Joan turned to the public gardens, including those exquisite corners off staircases and other curious spaces. Many doughty residents have created these by their own efforts, enriching whole neighbourhoods for thirty years or more. In addition, there is a wonderful public park at the base of the Golden Gate Bridge, primarily containing native or drought tolerant plants.
The remainder of the book covers one garden per month, from January to December. In each case, the text is amplified by a plan of the garden and one or more coloured photographs by Henry Bowles. The " March" garden actually belongs to Henry Bowles' sister. The property had belonged to their grandfather and they had played there as children. If you ever have a chance to visit any of the gardens described in Joan's book, jump at it.
Nikita Kruschev complained that there were no trees in San Francisco and that we had a nerve to consider ourselves a world class city. Little did he know.