Musings
»
The Looking Glass Garden; plants and gardens of the Southern hemisphere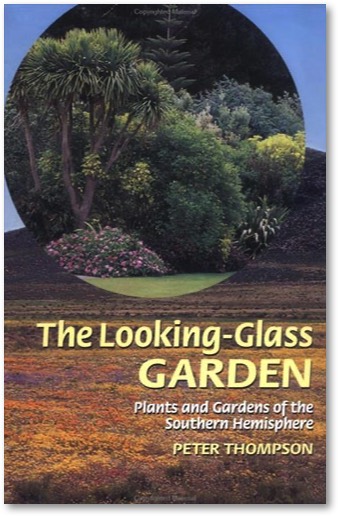 Thompson, Peter
Portland, Oregon
Timber Press 2001
It is clear from the introduction that Peter Thompson, master of the orthodox English garden, doctor of horticulture and solidly sensible nurseryman, suffered a severe shock when he first saw indigenous gardens in the Southern hemisphere. It was so jolting and disorienting that he was not even sure if it was good or bad. Everything he had been brought up to admire and hold in esteem became open to question.
This epic event led him to write an honest and very illuminating book. English taste, so quiet and refined, was turned upside down but not necessarily for the worse.
On page 43 he refers to the similar, now legendary experience of Roberto Burle Marx, who "saw" his native Brazilian plants in all their glory for the first time in the botanical garden at Berlin. This led Marx to reject all the conventions and design gardens reflecting this luxuriance, instead of the dull formal gardens he had been taught.
Thompson indicates that plants from the Southern hemisphere constitute a last frontier for Western European and North American gardeners. Almost all the plants imported from the Orient in the nineteenth century which are now commonplace were chosen for their hardiness. Plants with less reliable behavior are only grown by a few diehards. Thompson now wants to change this as a result of his epiphany.
Our California gardens contain numerous Southern imports. They have become so familiar we no longer think of them as exotic. Almost as soon as the gold rush was under way, Australian plants were sent across the Pacific. In 1849, Sarah Gillespie brought acacia seeds via China to San Francisco. Eucalyptus seed originally came in a ship bearing Australian gold miners. The New Zealand Phormium has almost become a cliché. Who remembers that pelargoniums ("geraniums") came from the Cape of Good Hope with its unique flora?
When Dr Thompson visited both private and public gardens in South Africa, Australia and New Zealand, the plants he saw were arranged in ways utterly alien to all his shibboleths. In his words, gardening will never be the same again.
This book repays slow and careful reading. Thompson arranges the chapters by plant and habitat. One longs to visit Kirstenbosch in South Africa to see the restios and proteas for example. The illustrations are extraordinary, leading to unworthy feelings of jealousy in at least one breast.