Musings
»
Richard Gorer: An English Jewish horticultural scholar and garden writer of the mid-twentieth century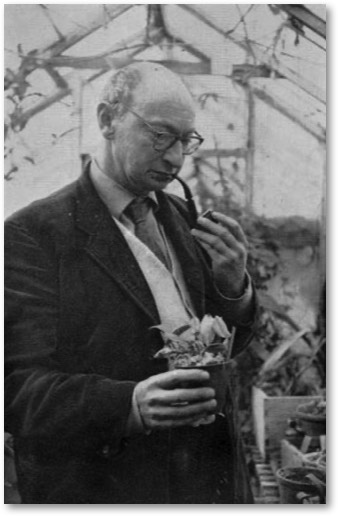 Figure: Richard Gorer in his greenhouse. From the jacket of Hardy Foliage Plants, published by Collingridge 1962. Photographer unknown.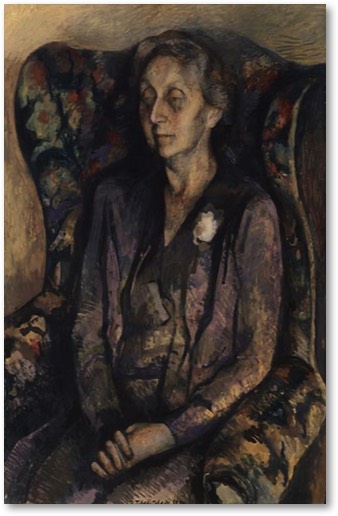 Figure: Rachel Gorer, Richar Gorer's mother. Portrait by Pavel Tchelichew, 1927. Reproduced by permission Tate 2007.
Richard Gorer, 1913 – 1994, was born into a distinguished Jewish family. He was the youngest of three sons.

His mother Rachel, known affectionately as "Rée", was an artist and sculptor. She was a close friend of Edith Sitwell, the eldest of the three Sitwell siblings, Osbert, Edith and Sacheverell, who created so much of a stir in English artistic circles between the wars. Rachel met Edith Sitwell soon after the latter started to live in London by herself with her former governess as chaperone. Rachel was a student at the Slade School of Art.

Moving into her own flat was a defiant gesture for Edith Sitwell in 1913, when "nice " girls always lived at home. It was an exceedingly modest apartment in an unfashionable part of town and she subsisted on an exiguous income, only being able to serve tea and buns at her literary parties, but she was independent of her overbearing father and self-absorbed mother. The money was her very own, and could not be taken away from her.

Even after Rachel Cohen married Edgar Gorer at the Hampstead Synagogue in 1905, and went to live in Netherhall Gardens, Hampstead, the friendship endured. Biographies of Edith Sitwell indicate that she entertained Mrs Gorer and much later she and Richard's elder brother Geoffrey would go to pubs together.

Edith invited the Gorers to her literary teas. She introduced them all to the most important person in her mature life, Pawel Tchelichew, the painter. He painted the iconic portrait of the poet, but he also painted a portrait of Mrs Edgar Gorer and one of her sons, Richard. After their mother died, the Gorer sons donated Tchelichew's portrait of Mrs Gorer to the Tate Gallery. Gorer's niece, the daughter of his brother Peter, inherited the portrait of her uncle.

In general the Sitwells, like other people in their class, were not fond of Jews and preferred not to spend very much time with them. The Gorers must have had exactly the right tone to overcome this universal dislike. As far as is known they were not practicing Jews and were not active in the Jewish community, yet there was never any question about their identity. There is no evidence that Rachel helped Edith with money.

Quite recently I came across a woman whose father had worked for Richard Gorer in the 1930s and who was Richard's god daughter. Her father Patrick was an Irishman and her mother was of Italian descent. Almost the first words of her note stated that it was odd for a Catholic child to have had a Jewish godfather. Religion and race were central.

Richard's father, Edgar Ezekiel Gorer, ran a successful antique business. Its success was in large part due to his exquisite knowledge of Chinese porcelain. He frequently travelled to New York to visit his agent in New York at 500 Fifth Avenue, Dreicer and Co. In London his business was at 170 New Bond Street.

The business had been started by Gorer's father Solomon in the 1880s but Edgar took it to new heights. Edgar Gorer wrote a monograph on Oriental porcelain which is still relevant.

He had the misfortune to be returning to London from New York on the "Lusitania" when it was sunk in 1915. Survivors' reports describe his gallant behaviour in the face of certain death. He was only 43 years old.

Had he lived he would have brought an extraordinary lawsuit for half million dollars against the most prominent antique dealers in the world at the time, the Duveens. They had insinuated he defrauded a client over a piece of antique porcelain when in fact they had wanted to snare that customer themselves. He strenuously denied this accusation. It impugned his reputation and went right to the heart of his business but he died before he could do anything about it.

All three Gorer sons became expert in their fields. The eldest, Geoffrey, was famous as an anthropologist. The middle son, Peter, was a physician who did important research into the immune system very early. The department of immunology at Kings College Hospital Medical School in London is named for him. Had he lived he would have been a candidate for the Nobel Prize. It was awarded a year later to his laboratory associate.

Peter Gorer had laid down the biological basis of organ transplantation. He died at the age of 54 of a rapidly progressive lung cancer after smoking very heavily all his life. Peter Gorer is the only son who married and had any children. Both the others lived into their 80s.

Richard grew up in a very stimulating environment but probably had no clear memory of his father. As a child he was a day-boy at Westminster School. The well-known English novelist and writer Angus Wilson was in the same class and has left some stories about Richard. Richard showed him how to finesse the compulsory sports periods by volunteering for fencing class. They often went for tea and cakes to a local café and amused themselves by inventing histories and personalities for the customers they saw there.

Richard was disputatious and contrary in manner, but extremely clever. In her biography of Angus Wilson, Margaret Drabble, another well known novelist, suggested that a principal character in his famous novel, The Middle Age of Mrs Elliott, is based on Richard Gorer.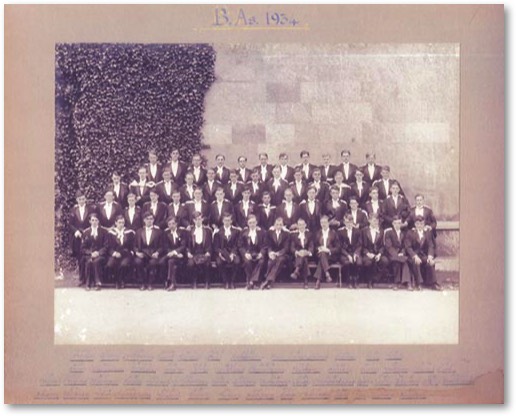 Figure: Richard Gorer (far left in the 2nd row from the back) when he graduated from Kings College, Cambridge in 1934. Alan Turing is in the front row, 2nd from the right. Photograph reproduced by permission, Kings College, Cambridge. Photographer unknown


Richard lived with his mother first in Hampstead, and later in Highgate. The houses had large gardens. Such a childhood can have a strong influence on later choices. In 1931 he went up to Kings' College Cambridge, the same college as his brother Geoffrey. One of his classmates was Alan Turing, hero of Bletchley Park and pioneer of the self programming computer. It says something about the Gorer family that they could send their son to Cambridge during the depths of the Depression.
Kings College had a great tradition of famous graduates. In the inter-war period of the twentieth century, undergraduates were affected by the poverty and distress in Great Britain and Europe. They witnessed the rise of Fascism and Nazism, and the Spanish Civil War. In order to make a statement it was not unusual for some of them to join the Communist Party or at least to become sympathetic observers.
The "Comintern" (Communist Party International) created its "sleeper" groups then, activating them many years later. A small group of exceptional students were in the Apostles, a more or less secret society of intellectuals which increased its membership entirely by invitation. One could not apply to join.
This slight digression about the college is important in understanding what life as an undergraduate in Cambridge was like in the early 1930s. It was almost impossible to avoid taking some sort of political stand but it appears that Richard Gorer stuck close to his work and stayed away from politics.
The college register indicates that Gorer went up to read both music and horticulture, which presumably would have included botany, as an undergraduate. Mixing science with the arts for the tripos was uncommon. Music was his principal course of study. The alumni records list him as a musician, nevertheless he seems to have absorbed botany and horticulture somehow.
The music department had a long and distinguished history. The chair was the earliest to be founded, dating from 1684. Among the previous incumbents were William Sterndale Bennett, a noted nineteenth century British composer who was eclipsed by the Continental geniuses, and Charle Villiers Stanford, another solid British composer.
The professor and chairman of the department when Gorer was up was a Fellow of Kings College, Edward Dent, 1876 – 1957. He was a well-known scholar and critic and ran the department from 1926 to 1941.
Dent was a close friend of E. M. Forster. He wrote several influential books such as a biography of Mozart and one of Alessandro Scarlatti, Domenico's father. Another of Dent's friends, Sacheverell Sitwell, wrote the first modern biography of Domenico Scarlatti at the behest of Violet Woodhouse, the clavichordist. Mrs Woodhouse played Scarlatti at her intimate drawing room recitals long before he was popular or fashionable. The Sitwells were her ardent devotees and Richard Gorer went to hear her play occasionally.
Natural science was in a ferment at Cambridge in the 1930s. Botany went a long way back, to John Ray in the 17th century, a clergyman-scholar who is considered to be the first truly modern botanist. By the 1930s, new discoveries in physics, chemistry, biochemistry, genetics and neuro-physiology emerged in rapid succession. Joseph and Dorothy Needham, Sir Frederick Gowland Hopkins, and E. D. Adrian (later Lord Adrian) created a lot of excitement and inspired generations of scholars.
G. E. Briggs was professor and chairman of botany at Cambridge in the 1930s. He was a noted plant physiologist and surrounded himself with other expert physiologists. Rigorous techniques of chemistry and physics were being used to explain natural phenomena, changing biology from a descriptive science to one based on fundamental facts. Only in this way could true progress be made in understanding how life worked.
Briggs had a powerful influence on his students. He was a "kingmaker". John Stewart Turner, demonstrator in the department from 1934 to 1938, left to take the chair of botany in Melbourne, The Australian Rutherford Ness Robertson, (later knighted) was a graduate student at Cambridge and returned to Australia to take the chair at Sydney.
With such teachers Richard Gorer's attitude to scholarship was set for life. The topic would matter less than the way in which he would approach it. His family also commented on his tenacious memory, a major asset.
After going down Richard Gorer was soon deep in London's artistic circles. Michael Ayrton, a painter with a strongly marked personal style, introduced him to Humphrey Searle, the composer. They remained friends for the rest of their lives. Gorer was best man at both Searle's weddings. When Searle took up a post at the B.B.C., Gorer also worked there for a time. He created new programmes and immersed himself in various composers, some very obscure from the 18th century and others much more modern.
His erudition was recognized. Eric Blom, the famous editor of Groves' Dictionary of Music and Musicians, asked him to write several of the entries for the 5th edition. At the time contributors did not sign their articles but Gorer wrote about the Czech composer Fibich and possibly others. He also contributed to The Heritage of Music and The Great Musicians.
Richard and his brothers kept in touch with Edith Sitwell. She sent him a copy of one her new volumes of poems when it appeared in 1962, inscribed to "Darling Richard, with love, Edith". This volume was found in his library at his death.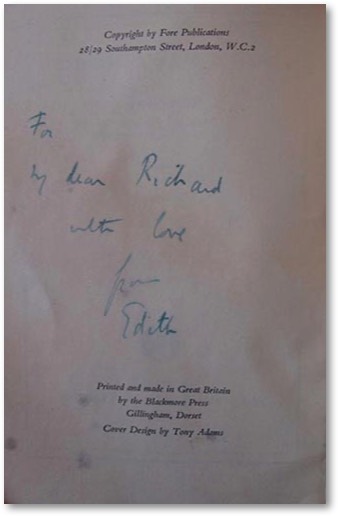 Figure: Edith Sitwell's inscription to Richard Gorer in a new book of poems. 1962. Reproduced by permission of Kings College, Cambridge.
I kept expecting Gorer and his circle to be the basis of characters in Anthony Powell's huge A Dance to the Music of Time but have not been able to identify them unequivocally. Friends of theirs such as Constant Lambert appear in starring roles. I have a feeling Powell and Gorer's paths may have crossed, yet when I asked Michael Barber, author of an excellent biography of Powell, he had not come across Gorer's name.
The Second World War began when Gorer was 26 years old. He did not fight in it, probably because of a minor medical disability. He made his contribution by market gardening in Kent. With his powerful intellectual background he may also have been tapped for other, more clandestine services, but this is entirely conjecture. His school friend Angus Wilson worked at Bletchley Park.
At some point Gorer moved away from music as a full time activity and went into horticulture. The reason for this transition is not known. It could have had something to do with his brother Geoffrey. In 1950 Geoffrey bought Sunte House, a small seventeenth century manor in Haywards Heath, Sussex and devoted himself to its garden.
Geoffrey was very interested in gardening and this could have been part of the motive for his brother. Geoffrey was an active member of the Royal Horticultural Society, attending its meetings very regularly. Quite frequently, he, Richard and their niece went to the shows together.
Some years later, Richard noticed a spontaneous hybrid of Abutilon in his brother's garden. Christopher Brickell named it A.'Suntensis' and it is still a popular shrub.
I have had the great privilege of corresponding with a close relative, but neither she nor her mother can tell me why Richard switched to horticulture. Other persons who knew him are also at a loss. I assume it is connected with his meeting one or more influential people who affected his thinking beside his brother Geoffrey.
One of these was John Hooper Harvey, an architect-historian who wrote prolifically about England's architectural heritage and as a by-product, its landscape and garden history. Harvey was so thorough that his work led him to search the old nursery catalogues for evidence of what was available to the gardener in the period he covered. It also led him to be one of the founders of the Garden History Society.
Gorer and Harvey wrote several articles together, examining such topics as the diappearance of Lonicera x Americana, or the mysteries of Lord Anson's pea in exquisite detail. These papers appeared very late in their lives, 1990 and 1991. Gorer died in 1994 and Harvey in 1997. These were not journeyman efforts but were written when both men were mature experts. The Somerset historian Michael McGarvie helped me with this connection between Gorer and Harvey.
Harvey had not been able to afford a university education but had been apprenticed first to his father, an inspector for the Ancient Monuments Board, and later to Sir Herbert Baker. He was devoted to the mediaeval period and considered all other architecture to be a very poor second in style. Few academics could match Harvey's phenomenal output of scholarly works.
Such a man, with a powerful personality and huge drive, could well affect someone who was looking for a path to follow. Where or how they met is a puzzle as Harvey was not part of the inner circle of university men and lived way up north in York all his life. Gorer always lived in the South of England. Presumably Gorer had already taken the first step into the world of garden history and horticulture before he came across Harvey.
Another person with whom Gorer was friendly was Thomas Rochford III, owner of Rochford's nurseries in Turnford in Hertfordshire. Rochford also had a strong personality. His family had been in the nursery business for two generations. His father had pioneered the development and distribution of indoor plants, or house-plants as they became known. He created several innovations which made them available all year round, and as a result changed the attitude of the public.
Garden space shrank as towns grew more congested and land more valuable yet people still wanted something green and fresh in their lives. What better than a plant which grew right in your living room? Rochford's ideas took him way past the outmoded and almost comic aspidistras of popular renown.
At the nursery, house-plants were affectionately known as "Tom's weeds". In 1961, Gorer and Rochford put out a useful book on the care of these plants: The Rochford Book of House plants. Tom's son Thomas Rochford IV, now a professor of computer science at a college in Cambridge, remembers Gorer as a figure from his early life. The children called him somewhat irreverently "Old Weedy" because of his proclivity for growing his treasures among weeds in odd patches of his garden.
They were in awe of his knowledge but found it hard to get him to talk about anything other than plants. His niece also commented on that aspect of his personality. They were not aware of his previous musical career. Some of his authority came from having seen the house-plants, which were tender and had to be coddled a bit, in their native habitat.
Dr Rochford recalls that Gorer had interesting modern paintings on his walls, in particular, two by the modernist Francis Bacon. These valuable possessions contrasted with the extremely messy house which Gorer inhabited. He also knew that Gorer was very interested in the great essayist Francis Bacon, Lord Verulam, and very knowledgable about Gorhambury, Lord Verulam's estate. His interest led him to write about the rockery at Gorhambury with John Harvey.
Rochford thought there could have been a nexus in Gorer's mind about the two Francis Bacons, with possibly occult overtones. The modern painter was a distant, collateral descendant of Lord Verulam. He led what might be called a very "rackety " life, but in spite of that lived to be 83. Gorer had avant garde artistic friends in London, both before and after he was at Cambridge, possibly influenced by his mother.
Bacon reached London in 1934, soon after Gorer came down. They were roughly contemporaries in age.
Richard Gorer wrote the following books:
The Rochford Book of House-plants, co-author Thomas Rochford 1961
Rochford's Book of Flowering Pot-plants, co-author Thomas Rochford 1966
Hardy Foliage Plants 1966
Climbing Plants 1968
Rochford's House-plants for Everyone, co-author Thomas Rochford 1969
The Development of Garden Flowers 1970
Multi-Season Shrubs and Trees 1972
Living Tradition in the Garden 1974
The Flower Garden in England 1975
Choosing Your Garden Plants 1975
Trees and Shrubs: a complete guide 1976
Quick Growing Shrubs 1976
The Growth of Gardens 1978
Growing Plants from Seeds 1978
Illustrated Guide To Trees 1980
Garden Flowers From Seed: an illustrated dictionary 1981
The Collingridge Handbook of Hardy Foliage Plants 1983
Fruit and Vegetables from Seeds: an illustrated dictionary 1984
(This list was compiled with the help of C.J.Wisdom at the Lindley Library, Royal Horticultural Society)
Gorer also edited Edith Holden's hand-written diary about wild flowers in the countryside near her home. She illustrated it with water colour sketches of those flowers. This work, published as The Country Diary of an Edwardian Lady, became very successful. More people know of Richard Gorer because of this book than from any other source.
Regardless of whether any particular book was a work of extreme originality or not, the books listed above form a very impressive output for anyone. Some of his books were tightly controlled on a high intellectual plane. There is a cerebral quality to his writing, based more on what he has read than on what he was growing. Other books were re-working of previous material. Few could ever be called a "potboiler". The Garden Book Club would not have approached him if his work had been shoddy in any way.
The index book for me was The Development of Garden Flowers, published in 1970. He laid out in minute but fascinating detail the work of great hybridizers such as Victor Lemoine. It was a revelation. I had never heard of Lemoine nor had I given any thought to this aspect of horticulture's history. It sent me in many different directions at once.
I wanted to know how Gorer had come to look into this and then how he found it all out. I wanted to know more about Lemoine and his colleagues and it made me consider writing a book about the importance of plant breeding in the rise of modern horticulture. A few diehards prefer to grow species plants but the majority of gardeners depend on hybrids because of their superior qualities.
The way in which Gorer dug out tiny but crucial detail in horticulture was the same impulse which had driven his study of obscure Continental composers. It was a facet of his personality which expressed itself no matter what the subject matter was.
Along the way Gorer had become a fellow of the Royal Horticultural Society. The Lindley Library contains almost all the seminal works in horticulture, such as complete runs of all the journals from their inception and all the monographs as they appeared. Its riches are such that one could disappear into this library and never come out again. I have the impression that Gorer immersed himself in it all, building up his knowledge bit by bit until he began to share it with the world in the form of books. The Development of Garden Flowers, The Growth of Gardens, The English Flower Garden, and possibly Living Tradition in the Garden are the results of this research.
The Flower Garden in England covers early English gardens in great depth, and equates their development with the arrival of new plants over the years. Once one knows about Gorer's association with John Harvey, one can see the latter's influence at work.
In The Growth of Gardens, Gorer laid out the trajectory of plants from all around the world and how they influenced English gardening. This too is a topic which I have found deeply interesting and has engaged me for some time.
Living Tradition in the Garden is a wonderfully idiosyncratic work in which Gorer parades his prejudices, getting a few licks in against the icons of modern garden design such as Vita Sackville- West. His term for the creators of Hidcote and Sissinghurst was "exterior upholsterers".
Although he was such a sophisticate, Gorer left London and settled in various small towns thoughout Kent and Sussex over the years. The first foray into country living was in 1936, very soon after coming down from Cambridge. He bought a market garden near Maidstone and employed Samuel ("Patrick/Paddy") Ross as his manager. Part of the impetus for this might have been the "back to the earth" movement of the 1930s but he took his very close friend Billie Ledger with him. The market garden gave him cover.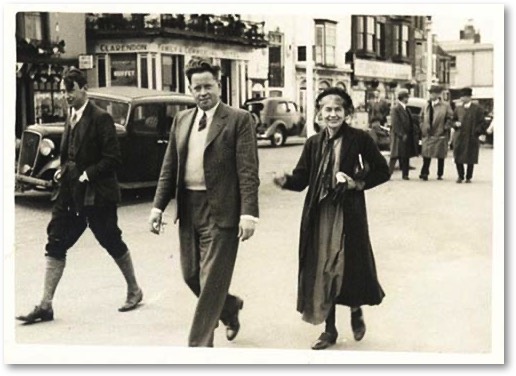 Figure: a) Richard Gorer in Maidstone's High Street with friends. Gorer is on the far left. 1937.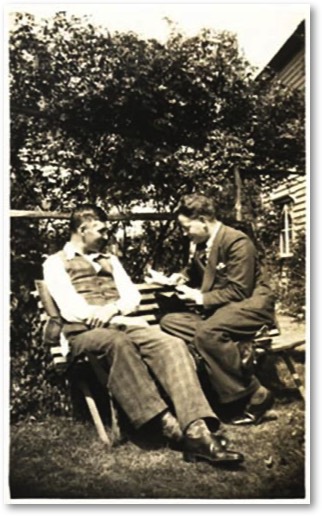 Figure: b) Richard Gorer with "Paddy" Ross in the garden. 1933. Reproduced by permission, Mrs. Ann Manno. Photographer unknown.
Mrs Manno, Patrick's daughter, recalls the unbelievably untidy cottage they inhabited. He and Patrick locked horns over the best way to deal with a market garden. Patrick was a gardener. Richard was a cerebral townie.

He finally retired to a cottage in East Sussex where he lived alone and died at the age of 83. Some of his neighbours remember his garden and how cordial he could be. Miss Marriott, who lived up the street, recalls him taking his dog for walks and being very friendly. His family also told me how easily he made friends with all sorts of people.

He was often asked to be a judge at local flower shows and was said to be very strict in his judging, surprising the community. This was important for him, maintaining standards as high as possible. Gorer did not confuse friendliness with sloppiness.

The house was modest but he had a substantial garden which he kept up for a long time. Sarah Pask, who bought the house from his estate, recalls catalogues from speciality nurseries continuing to arrive in the mail for months after she moved in. The garden had been neglected toward the end of his life but she told me there were remnants of wonderful plants among the weeds.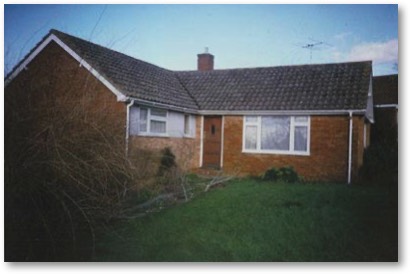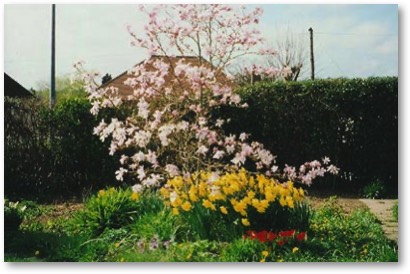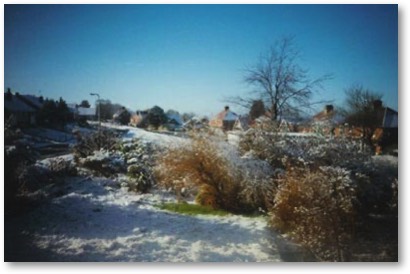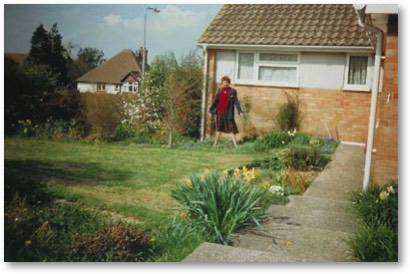 Figure: Various views of Richard Gorer's cottage and garden in East Sussex. Reproduced by permission Sarah Pask. Photographer Stephen Pask
Gorer collected books about music and horticulture. He bequeathed his personal library to Kings College, Cambridge where they are now held in the Special Collections department.

In spite of finding out some significant details about his life my feeling is that Richard Gorer remains an enigma. This was partly due to the fact that he was gay in a period when it still a crime. He may have felt that moving to small country places was a way to reduce attention to his way of life. That was probably a delusion, as eyes in the country are far more prying than those in a large city.

Gorer had friends who were gay and knew many others casually. One quite close friend, but probably not lover, was Jocelyn Brooke the poet and novelist who was passionately involved in finding wild orchids. Jonathan Hunt is writing a biography of Brooke and visited Gorer in 1988 to ask him some questions. Jonathan was kind enough to let me see the correspondence he and Gorer had after that visit. By then Gorer was less wary and commented on their friendship and Brooke's way of life fairly honestly. He did not think that Brooke was a very methodical botanist.

Jonathan' s report on Gorer's household confirmed what Ann Manno had observed all those years before. Gorer was very helpful and put himself out quite considerably for Jonathan but one thing he had not done was tidy up the living room or kitchen!

One last comment is that there is a good likelihood that his brother Geoffrey Gorer was also gay. Geoffrey never married although he made a highly publicized offer to Margaret Mead.

If there is a genetic basis for homosexuality it is supported by the Gorer family history. The same could be said for Angus Wilson. He was the youngest of six brothers, of whom three were gay.

Gorer had a double social burden. He was gay and he was Jewish when neither affiliation was favourable. This may be why there was no obituary in obvious places like The Times. The Royal Horticultural Society had no record of when he died nor was there any obituary in their publications. He simply slipped away out of sight.

Acknowledgements

The following people were extremely kind and generous. I am indebted to them.

Rachel Gorer Gross, niece

Mrs Peter Gorer, sister in law

Thomas Rochford IV, family friend

Dr Christopher Brickell, horticultural writer

Suzanne Creighton, secretary, Peter Gorer Department of Immunobiology at Guy's
Hospital

Michael McGarvie, Somerset county historian

Ann Manno, goddaughter

Charles Quest-Ritson, horticultural writer

Dennis Toff genealogist

Patricia McGuire, archivist, King's College, Cambridge

Jonathan Hunt, biographer

Michael Barber, biographer

Mrs Sarah Pask, owner of Richard Gorer's former cottage

Miss Liza Marriott, neighbour in Sussex

Angus Clarke, obituary editor, Times of London