BOOKS by Judith M. Taylor

Visions of Loveliness: Great Flower Breeders of the Past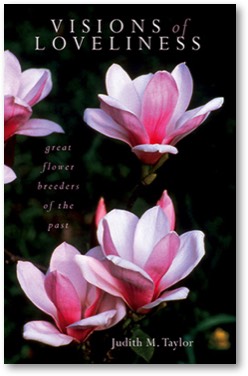 Ohio University Press 2014
PURCHASE THIS BOOK
We are the beneficiaries of centuries of work by a number of remarkable flower breeders whose names are very largely lost and forgotten. Starting with sometimes quite unpromising material the exquisite vision in their heads lead them to create new plants of surpassing beauty. Their heirs and successors continue to do the same thing.
This book is intended to restore their names and reputations and to give some idea of just how much hard work went into that rose or camellia you enjoy so much. It contains a great deal of detail about plant breeders and in some instances additional information can be found in this web site under the headings "Visions of Loveliness Supplement" and "The Marigold in California" supplement in the Articles section. To put it succinctly, this book is a judicious mixture of science and gossip.

PRAISE FOR VISIONS OF LOVELINESS
Publishers Weekly
Visions of Loveliness: Great Flower Breeders of the Past
Taylor (
The Global Migrations of Ornamental Plants
) tells all in this compendium of plant breeders, which updates Richard Gorer's The Development of Garden Flowers from 40 years ago. Based on solid research, Taylor's stories cultivate deeper appreciation for the flowers bred over centuries. The tales reflect a Western point of view, but refer to floriculture in countries around the world. The first of the book's three parts deals with the history of plant breeding; part two reviews important plant breeders in Europe (Benary, Foerster, Lemoine et al.) and the U.S. (Ball, Burbank, and Burpee, among others). Part three covers shrubs from azaleas to roses, and herbaceous plants from begonias to marigolds. Taylor omits the histories of irises or tulips because others have written books on those subjects. Taylor, a "snapper-up of unconsidered trifles," discusses plantsmen and women as if they were fascinating neighbors (her vignettes of the Hemus sisters and their sweet pea cultivars are delicious), and although her anecdotes are blessedly breezy, her encyclopedia is exhaustive. (
Dec.
)
The Boston Globe
Why breeding a new flower was once morally radical
By Kevin Hartnett GLOBE CORRESPONDENT
December 02, 2014
Sunday Columbus Dispatch