Musings
»
Gardening Women: their stories from 1600 to the present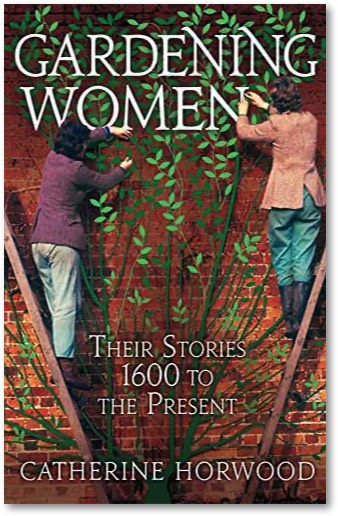 Horwood, Catherine
London
Virago Press 2010
This book is on such an important topic that I am constantly angry with it for not being better. The idea of remembering all the (English) women who created beautiful gardens and made significant contributions to horticulture in many ways is marvelous. It is one of those things that make you say " I wish I had thought of that". If anyone could do it Catherine Horwood is that person. Why then am I so annoyed with it?
The author starts quite arbitrarily with the early 1600s. She opens with Thomasin Tunstall, a gentlewoman who came down in the world after her husband died and left her with many debts. Mrs Tunstall turned to the one skill she had to earn money. She collected rare plants in her district and sold them to James Parkinson, the great apothecary and protobotanist. It is said she collected hellebores with such zeal that they became endangered for years afterwards. This is an interesting and important story but we do not know the first thing about Mrs Tunstall. Why did Catherine Horwood not give us her dates of birth and death at least?
The problem may lie in a very fundamental issue. What kind of book is it supposed to be? The current text is in fairly soft focus. That could reflect editorial interference or even the publisher's policy. The paragraphs blur one into another. Sometimes there is a change of topic mid paragraph, forcing you to go back and re-read from the beginning in case you had misunderstood where it was going.
The chapters are roughly divided by epoch and genre. Horwood uses a very elastic definition of what constitutes a woman gardener. There are garden designers, flower arrangers, nursery owners, chatelains of great estates and plain middle class women who enjoyed their garden in a very active way. Horwood pays careful attention to the great icons such as Gertrude Jekyll, Vita Sackville-West, Rosemary Verey and so forth. Lady Aberconway, whose father Henry Pochin created the estate at Bodnant in North Wales with the proceeds of his fortune in industrial chemistry, founded a small horticultural dynasty. One category which was peculiarly English was the founding of schools of horticulture for young women. The principals of these schools tended to be very tough and have powerful personalities.
There is little that is new about these well known figures. Horwood glides from one to the other in quick succession. Learning that Rosemary Verey did not take up serious garden work until she was past middle age is perhaps a little unexpected. Norah Lindsay also makes an appearance. She too was a seminal figure who started to design gardens professionally late in life but in her case from real financial need.
The recent scholarly and detailed biography by Allyson Haywood pointed out how Mrs Lindsay had to hide her precarious situation behind a flighty, rather outré persona. She ran with a very wealthy crowd and it was part of her sales pitch to be on the inside with them, laying out gardens seemingly effortlessly in her garden party dresses and silver highheeled shoes. She lived in their houses on equal terms with her hosts and their guests but on many mornings got up at 5 am, took buses and trains to specialty nurseries all over England to find the plants she needed for her designs. Her most significant contribution was to Lawrence Johnston's now world famous Hidcote.
There is a parade of minor figures which has come to our attention by all sorts of flukes, such as keeping a diary which was handed down in the family or by fascinating correspondence which was similarly preserved. Mary, Duchess of Beaufort, 1630 to 1715, is more than a minor figure but her reputation is cemented by the careful lists she kept and the catalogues of every plant in her grounds. The duchess wrote to many botanists and came to be regarded as a serious botanist in her own right. It was she who sent cotton seeds from the West Indies to Governor Oglethorpe of Georgia, thereby starting that most important of all American crops.
All these women were impressive, often going against the usual rules of conduct for their class and sex. It is wonderful to have their stories preserved even in this rather B+ fashion.