Musings
»
Handbook of Garden Irises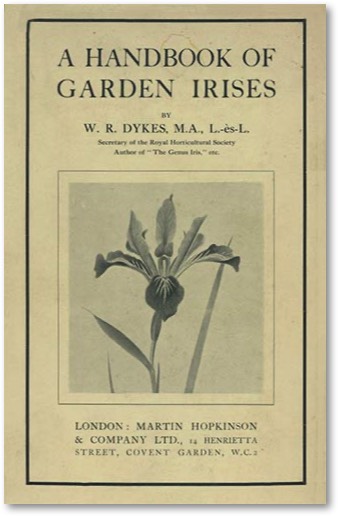 Dykes, William Rickatson
New York
Martin Hopkinson 1924
It is a tribute to the foresight and knowledge of the club's founders that they bought seminal works on gardening and horticulture as they appeared. This book is a perfect example. It has been sitting quietly on our shelves since the 1920s. I just happened to pick it up, only to find that Dykes remains a significant name in iris circles even now.
William Rickatson Dykes was the dean of iris scholarship in the early 20th century. He was secretary of the Royal Horticultural Society in London and author of the standard monograph The Genus Iris. In addition he grew many iris and was a skilful hybridizer. The Genus Iris is now a very valuable classic. It had handsome coloured illustrations by William Round. Round adapted his work for this version of Dykes' work, using black and white line drawing very skillfully.
This book is the third one Dykes wrote, intending to make the topic more accessible to the gardening public. It has become a minor classic in its own right.
The book is organized in a methodical and classical manner, listing the species and subsections of a very large genus. It is very thorough. I was intrigued to see that one species, I. macrosiphon, grows abundantly on Mount Tamalpais in Marin County, California. I live in San Francisco and my children live in Marin County, on the slopes of Mount Tamalpais. If you go to the web site of the Pacific Coast Iris Society, there are delightful photographs of this low growing iris in its native habitat,
Another California species is credited to that remarkable botanist Alice Eastwood. She discovered I. purdyi and named it for the Ukiah plant collector and nurseryman, Carl Purdy. Purdy's daughter became a teacher and instructor in nature studies in Southern California, carrying on her father's work.
Alice Eastwood was the first woman to be the director of a major American herbarium, at the California Academy of Sciences. She was a heroine of the great 1906 earthquake. Miss Eastwood had anticipated such a catastrophe and was one of the few people with a plan to save this valuable collection.
All during that fateful day she went up and down the staircase at the academy, carrying trays of dried plants, long after she was warned that the building was not safe. In her spare time she hiked through the mountains, collecting native plants not previously seen. Only Lester Rowntree equalled her for diligence and range.
It is a tribute to Dykes' encyclopedic knowlege that he lists the native iris of California with such care and accuracy. I have not been able to learn much about his life beyond the fact that he died quite young. It is doubtful he visited California in an epoch when travel was much more cumbersome and difficult than it is now.
The current Dykes Medal for the best iris carries enormous prestige and is another indication of his importance in this field. The book remains well worth reading in spite of the fact that current scientific research is turning the old iris classifications upside down. The categories of bearded, non-bearded, arils and etc used to be considered in a fixed evolutionary frame but new DNA studies indicate utterly different relationships.