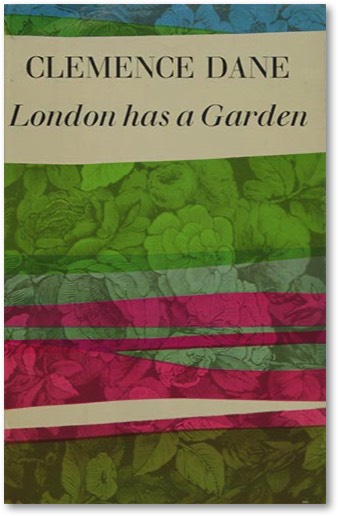 Dane, Clemence
New York
W.W Norton 1964
Clemence Dane is a name from the past. It is a testament to the breadth of our early librarian's reading that this book was included in the library. Clemence Dane was born in London in 1888 and lived until 1965. She wrote many successful plays and novels as well as screenplays.
Nowadays very few people one have even heard of her unless they grew up in England in the mid-20th century. I had heard the name and knew she was very popular. She belonged to that group condescendingly labelled "library novelists" by an acerbic critic, similar to Nathaniel Hawthorne's complaint about "the monstrous regiment of women". Women novelists flourished in his time, writing many more books than he did and making a lot of money doing it. Their work was not quite "literature" but it was popular and widely read.
Clemence Dane's actual name was Winifred Ashton but she took the pseudonym from the church of St Clements' Dane in London. London Has A Garden is about that most famous concourse, Covent Garden. The word "Covent" is a corruption of "Convent" and in the middle ages there was a convent on the site. We always think of women religious when we hear the term "convent" but it was a generic term back then, used for any such community whether men or women.
London had many private gardens and orchards in its early days. It is not widely known that fig trees and grape vines flourished along the River Thames. The grapes were made into quite a good red wine. Religious houses were the centers of gardening, using the extracts of their herbs as medicine. There was no other source of medical care. (think Brother Cadfael…) This particular convent owned a huge tract of land north of the Strand. The Earl of Bedford acquired it and retained Inigo Jones to build his new house, the church and other houses round the great square. Later the opera house was built there too.
The great project was not completed for political reasons but smallholders were allowed to sell their produce in the lee of Bedford House. Eventually sturdier booths replaced their temporary stands. This was the origin of the wholesale fruit and vegetable markets supplying the whole of the southern tier of England, a garden at first remove. Remember Eliza Doolittle and her violets in "My Fair Lady".
The market rapidly burst at the seams but it took 400 years for them to decide to move it elsewhere. Clemence Dane tells us this history in a slightly flowery way but the facts are all there. We no longer write like that any more: "…in the eternal war between brick and grass, brick has won a hateful victory over the fields…" is an example of her style. Dane had started out as an art student and then went into the theatre before finding her niche as a novelist. Her style must have appealed to the readers of that era because she was very successful. Presumably her interest in history was an avocation.
Much of the book is a memoir of her life in a flat near the Garden, starting just after the First World War. Clemence Dane also bore witness to the struggle to keep going in London during the Second World War, together with several other distinguished English writers. Much of the glass at the Garden was destroyed by German bombs but fruit and vegetables still arrived and were sold to greengrocers all over London. from there. The Germans were not going to stop Londoners no matter what.