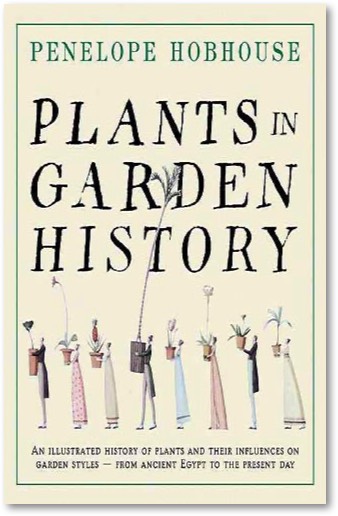 Hobhouse, Penelope
London
Pavilion Books 1992 (re-issued 2004)
Occasionally I deviate from my self-imposed task of reviewing the books in the club's library and spend a little time on a different book because it catches my fancy. Penelope Hobhouse's book is just such a one. I find her arguments very persuasive. She has a way of looking at things with which I agree wholeheartedly. This auspicious quality is enhanced by the presence of marvelous illustrations on almost every page. It is very expensive to do this but I suppose with Hobhouse's stellar reputation the publishers felt they would recoup the cost.
The images range from archival black and white drawings to reproductions of old paintings to modern coloured photography. They support her contention that the arrival of new plants had a powerful effect on garden design. In spite of seeming to be a coffee table book this one has a serious core.
Tall and majestic trees from America, such as the great conifers, maples, and tulip trees began reaching the British Isles in the eighteenth century. Hobhouse believes it is not by chance that garden style changed from formal and close-planted beds to open vistas appearing to be wood-like and "natural". Bridgeman and Wise started the movement. Capability Brown picked up on it early in the century, using judiciously-placed specimen trees as visual foci.
Another example is the ascendance of "bedding out" or "carpet-bedding", dependent on the existence of numerous brightly-coloured annuals of reasonable height. This started slowly with David Douglas sending back such specimens as California poppies, "blue eyes", larkspur, lupins and so forth. The trend accelerated once the Asian and Southern Hemisphere flowers were first imported and then extensively hybridized. What is bedding-out without petunias, begonias, delphiniums, pansies, salvias, zonal pelargoniums and similar plants?
Until the ancestors of today's roses appeared in any number there was little point in having a rose garden. The old European roses flowered once for a short time and then ceased until the following year. A rose garden as we know it is definitely a thing of the nineteenth century.
This argument can only be sustained on very broad and general lines. There is not a one-to one relationship between any particular plant and a garden style, except perhaps for the rose. Even then it is still fairly loosely connected. Rose gardens come in several formats. Evenly-spaced rectangles organized by type and species are perhaps the commonest kind but concentrically arranged circular beds are also a classic style. The latter type of rose garden is well done in Queenstown, New Zealand.
One could also argue that Gertrude Jekyll would not have had her epiphany about the colours of flowers in an herbaceous border without the existence of flowers in a thousand sizes and hues. Without the almost endless palette to occupy her mind, she might not have made the connection between painting on a canvas and "painting" with plants.
Hobhouse devotes a chapter to the development of North American horticulture. Some settlers in New England might have been familiar with early book describing plants from the New World but most of them simply stayed with the ones they had taken from home. They were more comfortable with the varieties they knew. It took a while before they risked trying out the new, wild flowers they saw. At first they considered everything around them as dangerous and threatening.
This is a very rewarding book.